One of my favorite things in middle school was doing a Q&A with my girlfriends and making sure my current crush saw my answers. Such middle school drama.
And here I am, nearly 20 years later doing a Q&A for the world.

It's still fun and yes, I'm hoping my hubby reads this tonight!
So here we go!
ABC's of Me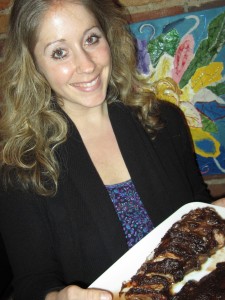 A. Age: 31 baby!
B. Bed size: Queen- an upgrade for me!
C. Chore you dislike: Folding laundry.
D. Dogs: No canine loves right now but I grew up with german shepards and a fabulous bichon.
E. Essential start to your day: The minute I get out of bed I am brushing my teeth. This is a recent must-do for me.
F. Favorite color: Pink of all shades.
G. Gold or silver: Both!
H. Height: 5 foot 2.75 inches. Yes I claim the .75
I. Instruments you play(ed): Other than the flute in music class that was it! I love music but CANNOT play it.
J. Job title: Holistic health + nutrition coach, wellness coach, group fitness instructor, new writer.
K. Kids: One day.
L. Live: In Boston, born n raised in Texas.
M. Mom's name: Pamela (Mother Dear to me)
N. Nicknames: J-Bomb, Bomber, Jenni, Jenn, J, Nibbler, Jenni-Poo
O. Overnight hospital stays: No and crossing fingers!
P. Pet peeves: Inconsideration, lack of pedestrian etiquette.
Q. Quote from a movie: Great Scott!
R. Righty or lefty: Righty
S. Siblings: brothers: C-Dawg + B
T. Time you wake up: 6:30-7
U. Underwear: always girlie
V. Vegetables you dont' like: all minus mushrooms + eggplant
W. What makes you run late: Always on time- courtesy of my mom.
X. X-rays you've had: Left pinky toe
Y. Yummy food you make: I'm learning lots, check out my page. Today's recipe is the best yet: Cinnamon Apple Maple Peanut butter. Ummm yes.
Z. Zoo animal favorites: I used to love the zoo and am an absolute animal lover. But as an adult I am grappling with whether I agree with animal containment. Verdict is still out.
No related posts.
Related posts brought to you by Yet Another Related Posts Plugin.