100 miles in 14 weeks…
My century ride is inching closer and closer friends.
June 4 will be here before I know it!
So what have I been doing to get ready the past month…let's see…
1. I have started to become very acquainted with this guy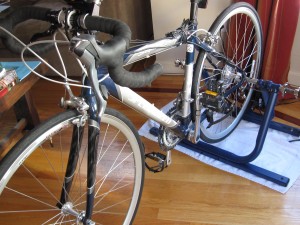 2. I have learned very quickly how key proper bike setup is.
The first two weeks of January I was on my bike about 3-4 days a week. Felt great. Working hard. All was a-okay. Until my knees started hurting. Say what? I haven't even biked 25 miles and I'm in pain?
After consulting with my brother, my chiropractor and anyone else who would give me a moment to talk I realized that my bike setup no longer fit my body, flexibility and range of motion. When the body is moving in ways, angles, and directions that isn't correct- it WILL let you know.
It's taken about a month now to sort out and find the right setup. Two visits to my bike shop, two fitters working their magic plus a suggestion from my brother and I am back on track PAIN FREE!
So friends, anyone out there deciding to jump on a bike, train for an event or challenge your body in a new way…do your research. Learn about your body and take care of it!
3. Official "training" begins in two weeks.
My bro will be sending me his crafted 12 week training plan and then I will never look back! So far I love cycling. I've always been a spinning fan and teach classes but road cycling is even more fun! Right now I am focusing on at least 3-4 bike rides each week playing around with cadence, resistance and so forth. I am also supplementing with 1-2 spinning classes each week for a more intense + challenging ride. Love it!
4. It was just confirmed that Tom Brady will be waiting for ME at the finish line after my 100 mile feat.
How sweet is that? I know that he is a major supporter of Best Buddies and will likely have Gisele somewhere in tow but that's all fine. Me + Tom. Sorry to the husband.
Many many more posts on my century plans!
Have a wonderful day!

No related posts.
Related posts brought to you by Yet Another Related Posts Plugin.