Mornin'

Did you know that today is National Blueberry Pancake Day? I had no idea! But once I was informed I knew there was only ONE thing to have for breakfast…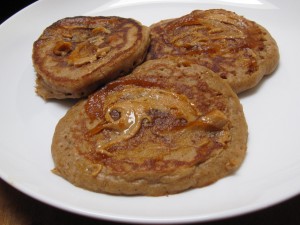 Pancakes get in my belly!!!
Now I love pancakes but I rarely to never make them. Odd.
But this week is all about having FUN WITH FOOD so here we go…
I was on a mission to find a pancake recipe that packed in as much protein as possible without actually adding protein powder to the mix. I really don't enjoy powder in my pancakes. I need pancakes to taste a bit like the old Sunday morning diner.
And I will apologize now- I did not have blueberries so I am only partially celebrating this Friday holiday.
Protein Pancake Power
Looking for some inspiration here, here and here, I pieced together one delicious recipe. The best part with pancakes I am learning is that you can play around the ingredients, amounts and additions to find your favorite taste.
Required for 1 serving:
3.5 tbsp oat flour or flour of choice ***
1 egg
4 oz. greek yogurt
1/2 tsp baking soda
1 tsp vanilla extract
dash of salt
*** regarding flour choice: go with what you have and what you enjoy. I had recently picked up a bag of this fantastic stuff and wanted to give it a try: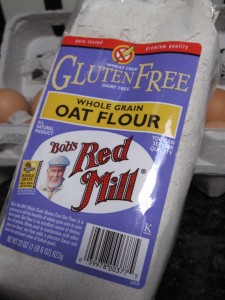 But honestly ANY flour will do the trick here. Personally I think wheat variations are the best as they add tasty whole grains AND give your pancake a heartier texture.
Step by step:
1. Whisk egg in small bowl thoroughly.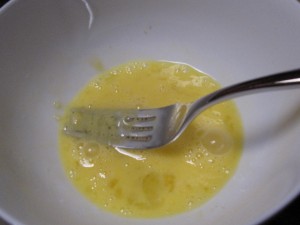 2. Add greek yogurt and vanilla extract
3. In separate bowl, mix together flour, baking soda and salt. Add to egg + greek yogurt.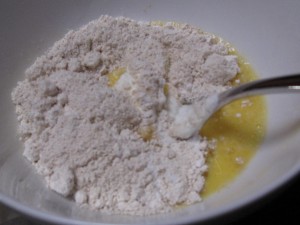 4. Mix well.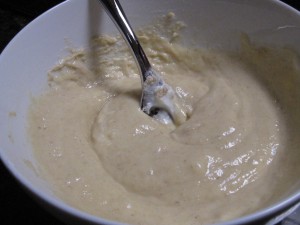 5. Spoon desired size amount of batter and cook away!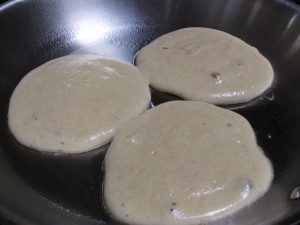 6. Impatiently tap fingers while cooking.
7. Add favorite toppings!
I had to have some of this drizzled on top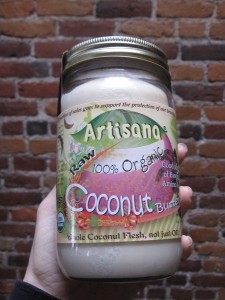 Yes I know, you are very jealous now. It's ok.
8. Place gorgeous breakfast on the table just as the morning sunshine is shining through the window. Take picture.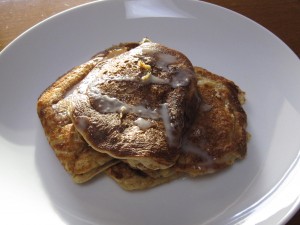 So wonderful! Happy Blueberry Pancake Day to YOU!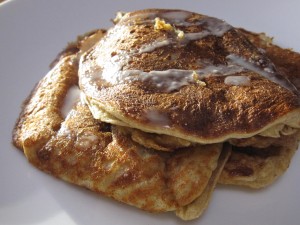 Packed with protein, packed with whole grains, and delicious fat. This pancake stack will give you roughly 24 grams of protein. Thank me now or later. What else on this earth could you need?
Savory Oats
It's a special Friday 'cause I have one more recipe for you! Well, actually it really isn't a recipe…more an idea that I finally tried.
I first came across talk of savory oats at Angela's corner. My first reaction was no way, absolutely not. Oatmeal belongs with breakfast foods, loaded with sweetness and I'm not ready to modify my life like that. I closed the window.
Then last week I was starting to feel exceptionally bored with lunchtime options. I opened the pantry and saw next to nothing. The fridge was an even sadder sight (it pays to be on a tight food budget). It pays hard. But then out of the corner of my eye I saw my avocado who had been waiting on the counter all week long. Idea #1.
Then in the fridge I saw a lime that was nearing the end of it's life. Idea #2.
Then for some reason, that I still do not understand, the picture of Angela's savory oats came to my head. Idea #3. Dare I?
I had oats, I had a can of beans in there (yes I often eat from cans) and I knew I could do it.
My super quick version of savory oats was born: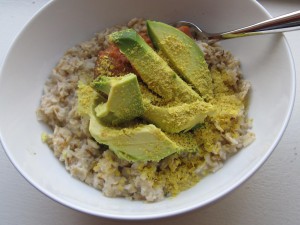 Can I just start by saying that I never knew the oat could be such a versatile guy. This was a downright incredible and simple little dish that filled me up like no sandwich ever could.
Here is where the magic happened:
1/2 cup dry oats
1 cup water
1/2- 3/4 cup of black beans, refried beans or whatever your heart desires
1/2 avocado
1 tbsp lime juice
salsa if desired
salt + pepper
small handful of grated cheese or nutritional yeast (non dairy option)
Cook oats as desired with water.
Heat beans separately.
Pour oats into bowl and add beans on top.
Add sliced avocado and salsa. Pour lime juice.
To top it all off add salt + pepper, cheese or nutritional yeast.
And you're done!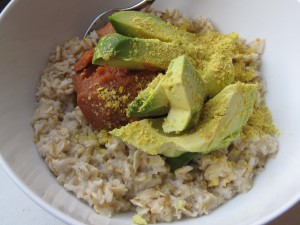 Stir together  and enjoy!
I promise this is one tasty meal. Combining the oats + beans gives you an awesome dose of whole grains, soluble fiber, and protein. And don't forget the beautiful monounsaturated fat in the avocado.
Now, go make some meals today. This is a rather long post!

Have a great weekend!
No related posts.
Related posts brought to you by Yet Another Related Posts Plugin.