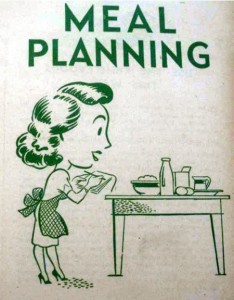 I'm not an expert meal planner. My experience with meal planning only stems from following planned diets. My experience with cooking has been based around the can have's and the can't have's. So much was off limits in my life therefore I never really enjoyed the kitchen. At all. My time in there was not pleasant and it was never about creating something delicious.
Until now…
Many days I don't even know where to begin. I am overwhelmed with the idea that I could make anything! Anything that this body of mine desires.
But it also has to fit our tight budget.

An interesting challenge.
Lately I've been focusing on one single idea with food: to have FUN.
Eating, cooking, baking, cutting, preparing, planning, tasting…it should be a truly pleasant experience in our life. Maybe your time in the kitchen is a relaxing ritual. The methodical cutting. A focus on creation. Or maybe you really dislike the kitchen and it causes you to break out into hives when you walk in there.
Either way challenge yourself, challenge yourself to have fun with food again!
What exactly does that look like?
Well, here is my definition of having fun again…
Seek new inspiration
I cannot just walk into the kitchen and create. No, no, no I'm not that cook. If I walk in there and create on my own, something bad is likely to happen and my husband will be eating Cherrios for dinner. I need inspiration and I need guidance! So I turn to my cookbooks (which are just now starting to stretch their pages these days), blogs, and websites for ideas. On Sunday I spent at the most 30 minutes looking up new recipes and I picked 5 to try for dinner.
You don't have the be the creator of fun friends. Look to others, watch-learn-follow. Fun starts with new!
Variety + simplicity
Breakfast is a small collection of 3 basic meals that I make: oatmeal w/banana, smoothie or eggs with toast. Now don't get me wrong I love those simple dishes but sometimes you have got to step out of the box! So on Sunday during my search, I was determined to redefine breakfast fun. It's currently 16 degrees out so my body was asking for one thing and one thing only: enter warm, comfort food. In less than 10 minutes I had ideas all over the place for a comfort breakfast.
Ask yourself- what would feel good in my body first thing? What variety can I have at my fingertips that looks different everyday?
Bold Flavors
I'm often stumped with lunch. I'm not looking to cook a lot and I'm not looking to spend 45 minutes preparing. No this meal needs to be done in less than 20 minutes for me but it has also got to taste and satisfy. I'm usually a turkey sandwich or salad girl. Again- love that! But I'm ready for some boldness during my lunch power hour! This week I remembered seeing a few recipes for a rice or quinoa bowl. Packed with protein, veggies, and bold flavored dressings. So I spent another 5 minutes searching for a few ideas and lunch options were born again.
Be bold…try a new flavor, go crazy with a sauce, dressing, cheese, herb or spice that may kick your next meal out of the park.
Branch out
The old me in a grocery store was not fun. I was there to follow my exact list, going to the same places and same aisles every time. Don't throw anything new in there Jenn because your world might just end if you do.

These days I can spend over an hour in the store just perusing…thinking about new things to try.
Walk into the store with your list but remind yourself to open your eyes! Branch out from what you know and what you always get. Have a little fun in there!
Fun for me now is new, it's full of variety, it's full of flavor and it looks different every day! Begone the days where breakfast was strictly this, lunch was a chicken breast and dinner was a repeat of lunch plus a protein shake.
Now I welcome the days of food that is fresh, FUN, colorful, providing my body with new flavor, new nutrients and the ultimate satisfaction.
So here are the new recipes that I picked out for the week…FUN FUN FUN!
Cherry Chocolate Bomb Overnight Parfait
Cinnamon Peanut Butter Chickpeas
So, what's going on in that kitchen of yours? Do YOU have fun with your food? Can you add a bit more of it?
No related posts.
Related posts brought to you by Yet Another Related Posts Plugin.