Yesterday I stood in front of my pantry for nearly 10 minutes deciding on lunch. It was just one of those days.
It was also one of those days where I realized that 90% of my pantry is filled with Trader Joe's goods.

What would I do without TJ?
After much debate I saw a tube of polenta staring at me for what I believe has been nearly a month.
Time to experiment with polenta! I'm not very experienced with this mush of cornmeal but I have to say- I love this stuff. A delicious replacement for a grain with a warming and comforting texture. All around fabulous addition to any pantry.
And so after pulling out everything else to do with Trader Joe's I had a bit of fun.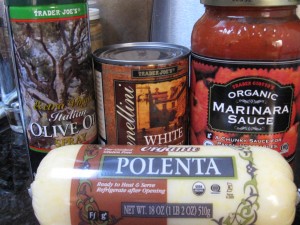 White bean + Polenta with Marinara

The below dish has 4 ingredients, not including olive oil spray.

How is that for simple!
Here is what you need:
roughly 1/2 cup polenta
1/3 cup cannellini beans
handful of spinach
marinara or red sauce of your choice
In skillet, spray pan with olive oil or coat as desired (I imagine butter would be equally tasty here). Heat to medium. Add polenta and break into small bite size pieces. I added about 2 tbsp of water as well to coat the pan a bit more.
Heat polenta for 2 minutes.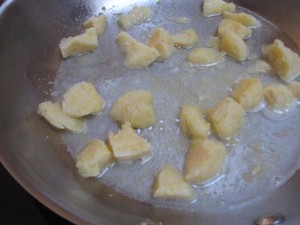 Add white beans and marinara sauce to mixture and heat for another 3-4 minutes. Add as much marinara as you like!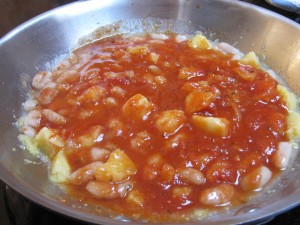 Add spinach. Heat until spinach is wilted.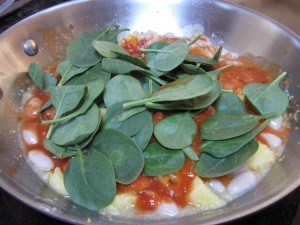 Pour into bowl of choice and place dish in best sunlight.
Snap pictures of your dish because food is beautiful.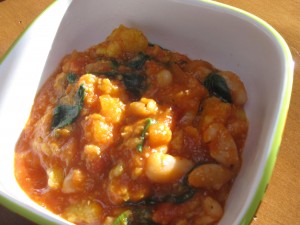 And then enjoy this comforting, filling and tasty dish friends!
No related posts.
Related posts brought to you by Yet Another Related Posts Plugin.