Happy Monday friends! I hope you had a most enjoyable weekend!
A few glorious topics for today…
Live Well Fit Now Success Story
As some of you may know I have been working with a life/career coach for two years now. Her name is Marilyn. I've actually known Marilyn for 5 years and have been a part of a goal accomplishment program with her through the company Best Year Yet- an experience that I wouldn't trade for anything!
Marilyn sends out jam packed and informative newsletters each month and this week picked me as a success story!
Success Stories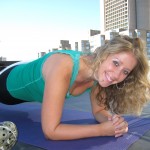 Formerly a diabetes educator at a prestigious Boston-based medical center, Jenn Campoli has reinvented herself as a health, wellness and nutrition coach. Not only has she developed loyal followers of her blog, LiveWellFitNow but her courage and unstoppable nature won her a profile in Fitness magazine. Jenn has been using the Best Year yet system for four years, is a graduate of Wellcoaches, participated in one of our professional development groups and is continuing her education at the Institute for Integrative Nutrition.
So many amazing words Marilyn! I am honored to be featured in her newsletter. Marilyn has been such a tremendous guide for me on my journey to coaching, personal development and self discovery.
Friends, click to OnTrack Coaching. Check out Marilyn's fabulous resources and sign up for her awesome and informative newsletter. Her approach to life, careers, goal achievement and success are extraordinary!
Berry Breakfast Bake
My morning started as any other…leap  stumble out of bed, chug a glass of water while perusing the kitchen blogs for breakfast ideas because I have no brain function in the am. I came upon a wonderful breakfast idea from Ashley and knew I had to recreate this dish.
A few ingredient changes and out came my morning Berry Breakfast Bake! So worth the 5 minutes of prep time + 30 minutes of bake time.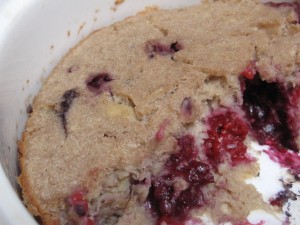 Here is what you need friends:
(serves two)
1/2 cup oat flour
1 banana
2 egg whites
4 tsp vanilla
dash of cinnamon
1/2 tsp baking powder
1/2 cup coconut milk
2 handfuls of berries of choice (I used frozen mixed berries)
Preheat oven to 350.
Mash banana until soft + gooey.
Whisk in milk, egg whites and vanilla.
Mix in oat flour, cinnamon, berries, and baking powder.
Grease small casserole dish, ramekin or muffin pans.
Pour in batter and bake for 30 minutes.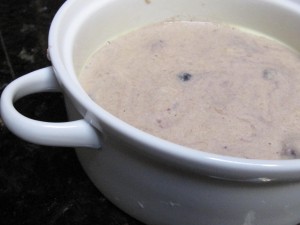 Then enjoy this…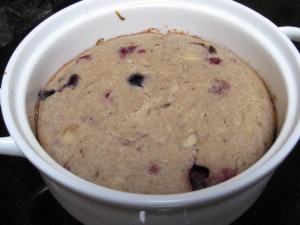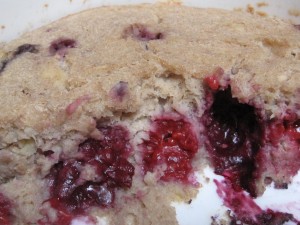 I know I sure did.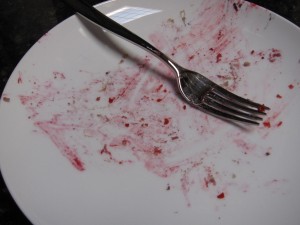 Topping suggestions are endless:
maple syrup
warm peanut butter
warm coconut butter
greek yogurt + PB2
greek yogurt + pumpkin
warm apple butter or pumpkin butter
No related posts.
Related posts brought to you by Yet Another Related Posts Plugin.