Morning friends!
We survived the epic snow storm of 2011 as they are calling it! The remnants this morning are always delightful.
This guy is going to need time + energy to shovel himself out! There was more snow on cars last night but with this crazy wind it has been drifting all over the place.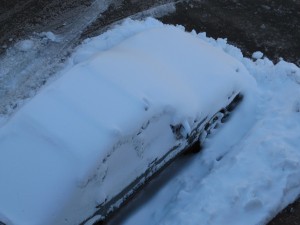 The tree limbs are so heavy with snow that it seems they will crack at any moment!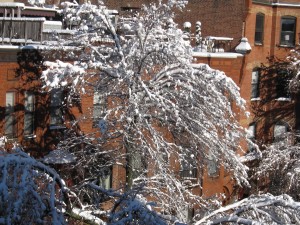 And the sun is deceiving today. It's bright and the sky is bluer than ever but it is a mere 20 degrees out. Painful!
But on to my productive snow day yesterday….
CompuTrainer is here
Yesterday felt like the perfect day to get this bad boy set up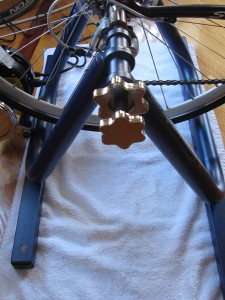 My husband was working from home so I used the day as a perfect opportunity to do projects that I had been putting off and needing his assistance with. You see, I'm mildly handy but I always move at a super fast pace. Moving too fast = accidents, crashes and breaks.

(Don't ask about the beautiful, brand new casserole dish that I destroyed yesterday)
I was super surprised at how easy this trainer was to set up. Outside of getting the load generator (large circular contraption that the back wheel rests against) mounted correctly, there wasn't much other handy work required.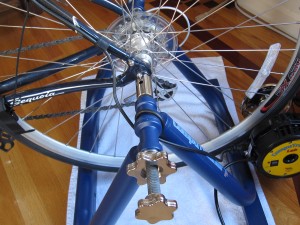 A relatively easy and pain free experience!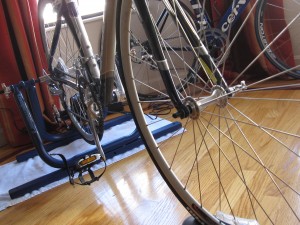 She's ready to go now!
There were a few tedious steps getting cables in place with velcro and making sure the cadence magnet was in place, but overall this was a simple and easy set up.
This guy allows you to control cadence, RPM, wattage and grade.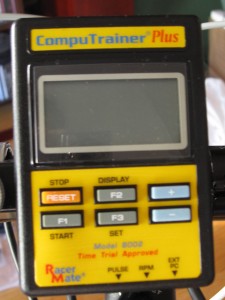 Our trainer has built in computer software where I can create and build specific rides according to my training needs but even with this controller alone (and no software), you can complete any type of biking workout.
So let's talk training for a minute…
First Glance at Training
I have a few specific goals in mind with my training plan:
Build mileage consistently and progressively
Increase endurance (aerobic base)
Build strength to support me during long rides
With that in mind, here is the skeleton of my training plan. I am still working with my brother on the weekly specifics but once we get that complete I will be sure to show you that!
Weekly Plan:
Monday: light endurance ride, heartrate in aerobic levels (50-65%), shorter distances, * strength training
Tuesday: TurboKick, high interval, anaerobic heartrate levels (75-85%), 60 minutes
Wednesday: light recovery ride OR shorter strength ride with aerobic focus (65% heartrate), * strength training
Thursday: strength ride, low end of anaerobic base (70-80%) OR high end of anaerobic base (80-90%), shorter distance
Friday: Rest day, * strength training
Saturday: long endurance ride, focus is on longest mileage
Sunday: easy recover ride OR rest day
Notice a few things:
1. I only have 2 days of higher intensity, anaerobic level workouts. Through learning about my body and what I have learned as an instructor, your body performs best and FEELS best when high intensity workouts are kept to a minimum of 2-3 days per week. Long term speaking.
This seems odd for me to say, especially since I completed Insanity back in the spring. That program was high intensity, high impact 6 days a week. It was incredible and I loved every minute of it! But it lasted 60 days. No more. I took a short break but then jumped back in to heavy intervals without letting my body truly recover. Ask me how I felt: tired, lethargic, low energy, my body hurt, my body was not perform well. Lesson learned and I have since restructured my workouts entirely and feel a world better!
2. I have a lot of built in flexibility. Wednesday might be a strength ride or it might be an easy recovery ride. Sunday is always left open as a rest day depending on how I am feeling. I plan to full listen to my body and own what it needs. I'm not out to impress, prove or push myself to a point where this event is anything less than awesome and enjoyable. End of story!
3. My workouts are full of variety! One bike ride looks and feels entirely different from the next. Some are light, some are focused on pushing my cardiovascular strength, some are all about the mileage. I will never be bored and if I am, I can always substitute a ride for another form of cross training.
Alright, alright! We are getting closer and closer to kicking off my program! I will be riding Friday and Saturday on the trainer but I don't officially start my training until Monday.

Look for all the details then! Today I am heading to spinning to get in a nice high intensity workout in so that my first two rides on the trainer are all about learning, getting comfortable and easing into things.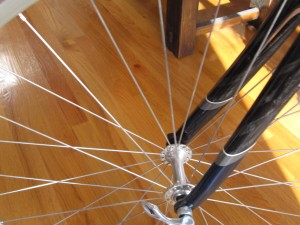 Have an awesome day friends!
Question of the day: Are you a fan of training program or do you like to fly by the seat of your pants? What gets you motivated with exercise?
No related posts.
Related posts brought to you by Yet Another Related Posts Plugin.