Some days you need to stay in bed until 11 (you bet I did!)
Some days you need to keep your pj pants on until 4pm, then partially consider the idea of putting real clothes on.
Some days you just need family.
Some days you just need a giggle with girlfriends.
And some days, some days…you need brownies.
I did.
And here they are.
Grasshopper Mint Brownies
My mom has been making these since I was a little girl. They made an appearance at nearly every holiday, every celebration and many other days.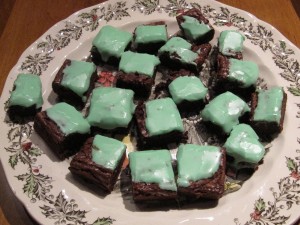 For success you will need:
1 cup powdered sugar
3 tsp softened butter
1 tsp milk, plus 1-2 more
mint extract or flavoring
green food coloring (if you desire the fun color!)
Bake brownies as desired and let cool.
In a small bowl, mix sugar and butter, add 1 tsp of milk. Frosting should be thick but smooth. Continue adding 1 tsp of milk until all sugar is blended. Add mint extract and food coloring to desired taste and color. Frost over every glorious brownie!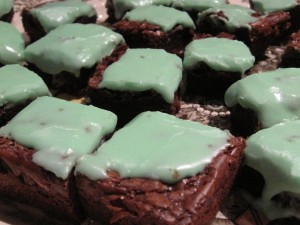 Oh these are so incredible tasty.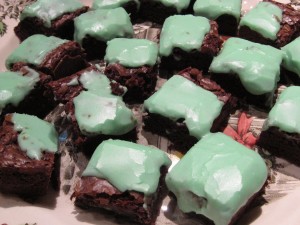 Add this to your list for Christmas Day, New Years Day and every other day where brownies simply need to be a part of your life. 😉
Enjoy the mad dash before Christmas Eve! Are you shopping?
WE AREEEEEEE!
No related posts.
Related posts brought to you by Yet Another Related Posts Plugin.