Today is dreary, grey and rainy.
Dreary makes me want to do two things: curl up to read the day away + make soup. Too much work to do so reading is not an option. Oh but soup is!!!!
Now, are you ready to change your life?
Really. Are you ready for my favorite soup in the entire world that I used to fight tooth and nail with family and friends over when my mom made it?
Good.
Here we go…
Northern Minestrone Soup
This soup is rich, hearty and very comforting during the winter months. The flavors are wonderful! It is the first thing I think of when the cold days arrive here in Boston. I typically make at least a double batch for us to eat throughout the week. This soup freezes SO WELL!
Now, go to the store immediately after reading this and purchase the following: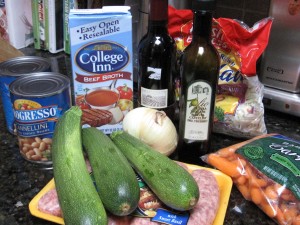 1/2 lb sweet Italian sausage
1 tbsp olive oil
1 clove of garlic, finely minced
1 tsp basil
1 c diced onion
2 zucchini, sliced
1 cup carrots, diced
2 c finely shredded cabbage
1 lb can Italian tomatoes (undrained)
20 oz beef broth
1 large can white kidney beans (undrained)
1/2 c red wine (I always use a cabernet)
salt + pepper
To my lovely veggie guys n gals: I have not made this recipe completely vegetarian but it is in my near future! If you would like the hearty taste of sausage I recommend using a Boca or Field Roast product that you enjoy. They seem to have the best smoked n sweet flavor. I normally don't suggest using those but I think they would work!
To begin…
1. Slice sausage into small pieces. In stock pot, add olive oil and brown sausage on medium heat.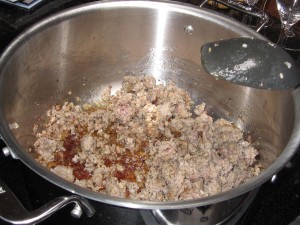 2. Meanwhile, chop up the onion. (I was not in the mood to clean my food processor so me + the knife did our job.)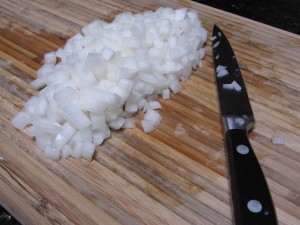 3. Add onion, garlic and basil to your pot. Then cook for 5 min on medium heat. Chop carrots, zucchini and cabbage. Then add zucchini + carrots to pot. Cook for a few minutes to soften.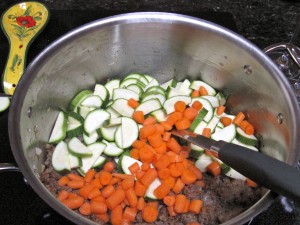 4. Cabbage goes in last. And yes, it's ok to use prepackaged cabbage like I did if time is short and you are hungry!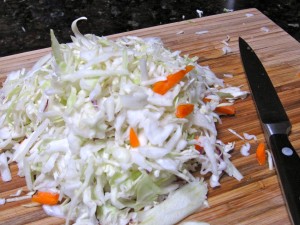 5. Finally add cabbage, tomatoes, broth, salt and pepper. Bring soup to a boil. Reduce heat and simmer covered for an hour.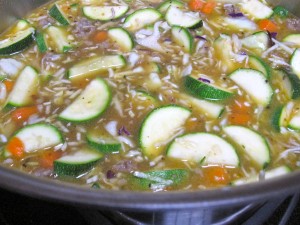 Oh yes…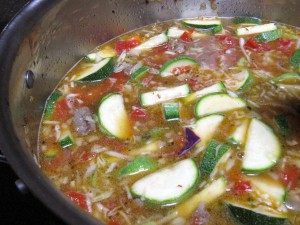 6. Add beans with liquid and wine. I'm very generous with my wine here- the flavor it adds is the best piece of the soup so go crazy!
7. Simmer for another 20 minutes.
** This recipe originally called for 1/2 c brown or white rice to be added with the beans + wine but to be honest…I like the soup better without it! But add your own touch. Pasta, quinoa, rice, pilaf, cous cous would all work well in here.
Now after patiently waiting for approximately an hour and 20 minutes…
ENJOY and tell me how much you love me!

I had two bowls yesterday, will have two more today and as many more tomorrow!
Holiday Tip
Maintain exercise.
December 1 today friends. The next few weeks will fly by. Life will be hectic. Shopping, working, buzzing around, parties, family events…life will be hectic. But within all of that craziness, make exercise a priority! Only have 15 minutes this morning? Hey- that's fabulous! Try a quick at home circuit or throw in a video. Get that body moving. Don't let time be your excuse! 5 minutes is better than none.
Maintain your routine as best as you can. Keep that body moving. You will feel less stressed and more energized during the holiday season!
No related posts.
Related posts brought to you by Yet Another Related Posts Plugin.