Have ya heard?
It will likely hit the stands in a few months…
A man has lost weight eating twinkies at every meal.
Can you see the headline on the cover of the book? "Eat twinkies and lose 5 pounds this week"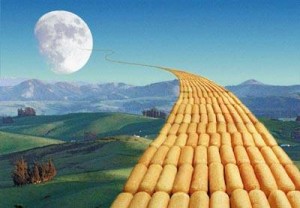 Actually, there is no book in store but after reading the report on what one nutrition professor did, I wouldn't be surprised if someone is already writing the Twinkie Diet book.
Let me catch you up if you are utterly confused.
Earlier this week an article was release about a nutrition professor at Kansas State University. For 10 weeks Mark ate 1800 calories of twinkies, muffins, hostess chocolate creme cakes and other various snack foods. He also included a protein smoothie (good boy! :)) and one serving of vegetables a day. Exercise was roughly 60-120 minutes each week.
The results? Check out the article below.
He lost 27 pounds in two months. Lowered his cholesterol, BMI and triglycerides.
Surprised? Shocked? Thoughts?
There has been a lot of discussion about this experiment all over the health and fitness world. Experts are weighing in, opinions are being shared.
The calorie counting world says brilliant! A perfect example of the basic equation of calories in, calories out.
The clean eating world says this is horrific! This is the worst weight loss example and he's likely sick in the hospital.
(well, that is my summation of the opinions I've seen :))
I'd love to share with you my take. I'm not an expert, nor am I a nutritionist. I do like to think that I am an expert of my body. I know a bit about food. And I've even dabbled in weight loss.
My first thoughts?
Of course he lost weight. You can't fight the basics of thermodynamic friends. If you burn more calories than you eat, if you have a calorie deficit, even if that deficit is the result of 10 twinkies in a day…you will lose weight.
(I never really believed that idea myself a few years back when I was face down in the Atkins Diet. I was convinced, convinced that carbohydrates alone were what plumped me up. Sorry Jenn.)
Why did his cholesterol and triglycerides come down? Because overall his fat intake also came down from when he was eating over 2500 calories.
Did Mark likely build any muscle during this 10 weeks? I'm going to go with no.
Did he lose the ideal type of weight, while maintaining his muscle? Not really.
The foods that Mark ate have quite a bad reputation. And food good reason. Does junk food cause weight loss? Of course! It is some of the most calorie dense foods available to us. The ingredients in those hostess chocolate cakes don't exactly scream health, vitality, or energy. But can you lose weight if you eat them? Yes, if your calories are still in check.
Our world today is seeing an incredible rise in obesity. We have more food available to us than we ever have before. The choices are overwhelming. The portions are overwhelming. The food is often processed. There are a lot of ingredients out there that most individuals cannot pronounce. It is not a healthy picture.
Is the solution to remove all deemed unhealthy foods and demand that the only way to lose weight is through eating a rigid and strict diet? NO!
I strongly, strongly believe that the rise in obesity today is a result of misinformation,lack of education, and certainly genetics/medical conditions when appropriate.
How can we ask parents to feed their children well when every diet book on the block says to do something different? How can we expect children to know what to eat when mom is jumping from diet to diet and never demonstrating what a balanced meal looks like? And how can families afford nutritious food when Twinkies are a quarter of the price of carrots?
And how can we ask ourselves to eat well when that alone seems so complicated and overwhelming?
I have had to radically change my relationship with food. I didn't know up from down about eating well. All I knew was to diet and then stuff myself. I didn't know what moderation felt like or looked like.
Here is what I took away from this Twinkie experiement: all foods can be a part of your life, no matter what your nutrition goals are. The lessons in weight loss are to seek balance and moderation with the foods we put into our body.
Balance means this for me:
A variety of foods. Fruits, veggies, yogurt, pasta, chips, smoothies, protein, oreos and much much more.
Some days include more fruits and veggies than I can eat in a month, while other days don't include any.
I have learned to TRUST my body. It asks for what it needs. It tells me what it needs. And I respond accordingly.
My food has found it's own way of balancing out over the course of a few days without counting.
I do not place any pressure on myself to eat a certain way.
I do not believe that this nutrition professor set out to say "eat Twinkies all day and look great!" He set out to show us that maybe, just maybe we can make weight loss and seeking better health more simple. Maybe all foods can have a place on our plates. And maybe if we educate ourselves about calories, how certain levels of calories feel in our body, increase exercise and learn to listen to our bodies- we might find everything that we are looking for!
I really enjoyed Tom Venuto's response on this article. He is a well respected author and fitness expert. Please take a look if you are interested in reading more!
What are your thoughts on this experiment?
Do you feel that all food have a place on your plate?
No related posts.
Related posts brought to you by Yet Another Related Posts Plugin.