Yesterday was one of those days where I looked at my meals and said out loud: where have you been all my life? I had a love affair with my food.
It was glorious.
I mean how did I ever live without the incredible Irish oats with thinly sliced bananas and a drizzle of maple syrup?
Simplicity people. Simplicity.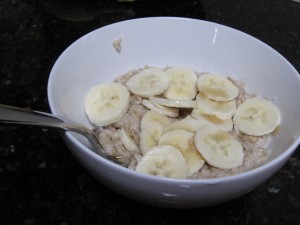 The maple syrup is key here. Pour on after the oats are cooked. All you need is a small spoonful. Let it swirl throughout the bowl and then slurp it up. I mean, eat delicately.

Look at that syrup goodness. A little goes a very long way!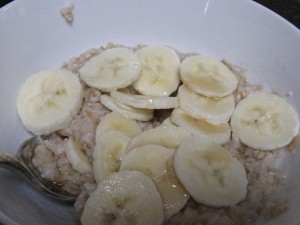 By lunch time the butternut squash that had been sitting on my counter spoke to me. Literally. He said go to Jenna's blog and survey the roasted butternut and apple soup recipe. Then create.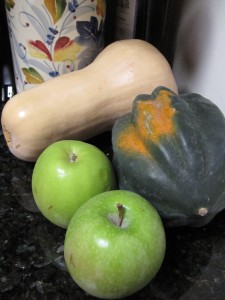 And so I did.
Here is my creation, based off of ingredients I had on hand.
Again, simplicity. This took no time at all outside of roasting the squash + apples. Worth every second.
Quick butternut squash and apple soup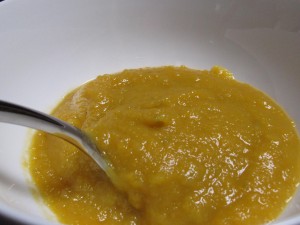 What ya need:
2-3 lb butternut squash
2 large green apples (or 3-4 small ones), halved and cored
16 ounces chicken broth
16 ounces Butternut Squash soup carton (I had Pacific Blends on hand)
1/2 onion, chopped
1 tsp sage (I didn't have fresh!)
1 tbsp olive oil
salt + pepper
** a quick note about the Butternut Squash soup carton. I had this on hand and it needed to be used up. I imagine this would come out just as delicious with a full 32 ounces of chicken or vegetable broth.
Preheat oven at 400. Microwave squash for 2 min to soften skin. Slice in half and remove seeds. Place face up on a baking sheet. Roast at 400 for 45 minutes. For the last 15 minutes add halved apples.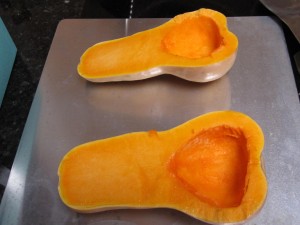 In a stock pot saute chopped onion in olive oil until tender (5 minutes). Add broth, sage, salt + pepper. Remove skin from roasted squash and add to soup. Add apples. Bring to boil. Then cover and simmer for 30 minutes.
Using an immersion blender, food processor or standard blender, mix soup to puree squash and apple pieces. I like my soup to be somewhat chunky so I blended to remove large pieces and make smooth.
My lunch again today plus a sandwich on the side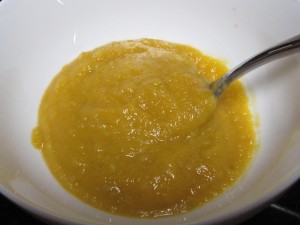 I know. It looks like baby food. But trust me boys n girls, it does NOT taste like it! And this soup is even more incredible on day 2. The flavors are down. right. fabulous.
Now go eat!
No related posts.
Related posts brought to you by Yet Another Related Posts Plugin.