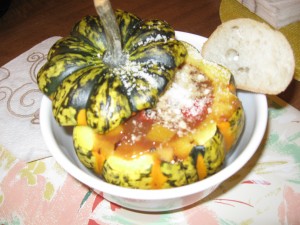 Sunday was a very special day.
For starters, it was 10-10-10.
The day was filled with crisp fall air and chilly temps.
I also sliced, peeled and roasted squash without injuring myself.
And I made my first fall soup of the season.
All in all it was a mighty beautiful day.
Now for the soup recipe.
The beginning of my inspiration came from two places. One, the cover of the newest Food Network magazine. I saw this cover from a distance while roaming through a Wal Mart in San Antonio (because that is what we do there! :)). That meal had to be mine. And then last week I saw what Angela created over at Oh She Glows. Such a warm and inviting soup with homemade roasted pumpkin bowls.
I knew I had to make it. I knew it was time.
I took both recipes, meshed them together and added a bit of my own touch on the ingredients (aka I made things even more simple!).
Let's start with ingredients, shall we?
Sausage n Butternut Squash Soup
2 links or roughly 3/4 – 1 pound of sweet italian sausage
1 red pepper, chopped
1 small onion, chopped
1 butternut squash, peeled & cubed
2 cloves of garlic, minced
2 cans of black beans or 1 large, drained and rinsed
1 large can of diced tomatoes (don't drain!)
1 tbsp oil
16 ounces of chicken broth
16 ounces of butternut squash soup (Pacific Natural is a great brand. Awesome soup starters!)
Salt n pepper
Paprika
As I mentioned I wanted to try the famous Kabucha squash for our soup bowl. I thought that these guys might be a bit easier to work with and clean out. And I thought the taste would be awesome mixed in with the soup. So for our soup bowls I bought one squash per person.
Preparing the Kabucha Squash soup bowls
Preheat your oven at 375.
First you must remove the tops of the squash. This can be tricky. You will need a sharp knife and some good arm strength. I had the hubby's dad do this one since he is more experienced and I didn't want to make a bloody mess in their kitchen. Slice about 1/2 inch down from the top, at the beginning of the widest part of the squash. Place the tops to the side for later.
Microwave the squash for 2-3 minutes to soften the skin. This makes it much easier to cut through and clean out. Take a short knife and cut around the inner edge of the squash. You want to cut around close to the edge of the squash as though you are carving out your bowl. Be careful not push too far down with the knife and cut a hole on the bottom to avoid a leaky soup bowl! Once you cut all the way around the squash you can begin to dig out the inside of the squash including the seeds and string. Hallow out as much as you would like but still leaving some squash inside to roast and soak with the soup when eaten.
Place squash on a cookie sheet and place lids back on. Set aside to roast later.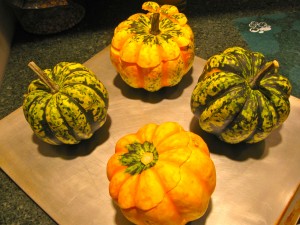 Soup prep
In a stock pot or soup pot, pour 1 tbsp of oil and warm on medium heat. Remove sausage from casing and brown. Break into small, bite sized pieces. Mince garlic. Chop onion and red pepper.
Add onion and garlic to pot with sausage and saute for 5 minutes or until tender. Meanwhile, begin to prep butternut squash. Microwave soup for 3 minutes to soften skin. Cut the base of the squash at the "neck." Using a sharp knife remove the peel of the entire squash and slice into bite size pieces. Here is an awesome tutorial that I found for peeling and cutting butternut squash. She saved me!
Turn heat slightly lower to avoid burning. Add the squash and red pepper, saute for 12-15 minutes. I ended up adding a splash of broth here because the veggies needed a bit of fluid. Add few dashes of paprika, salt and pepper to your liking. Add the beans, diced tomatoes, broth and roasted butternut squash soup mix. Simmer on low for 40 minutes.
Once the soup is simmering, place the kabucha squash in the oven and roast for 30-40 minutes. Makes about 6-8 servings.
Carefully remove squash from oven. Using a soup laddle or measuring cup, scoop soup into kabucha bowls. Finish off with a garnish of grated cheese if desired.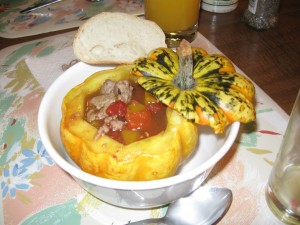 Now go enjoy some of that delicious fall!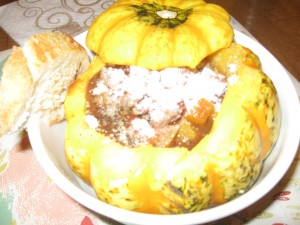 See ya soon!

I'm having more soup leftovers for lunch!!!
No related posts.
Related posts brought to you by Yet Another Related Posts Plugin.