Happy Friday friends!!!
Are you as excited as I am about the weekend approaching?

Weekends, fall weekends, how I love thee. Saturday we are headed to the Applecrest Festival up in New Hampshire. A day of apples, cider, cider donuts, music and just outdoor fall goodness! I can't wait.
I know that my obsession with fall is reaching it's peak right now but just hold on with me a little bit longer…it's worth it. All the recipes and good things that I will be sharing are worth it!
Let's do some sharing, shall we?
We had two special dinner guests last night. Our good friends Mike 'n Colleen were over and the star ingredients on the menu were….
Pumpkin + Squash
Oh everything was so delicious.
I took to roasting kombucha for the first time. I start by nuking each squash for about 3 min in the microwave to soften the skin. Makes for an easier slicing experience.
Slice in half and scoop out all the stringy + seedy mess.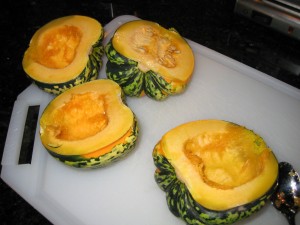 Turn over so that the flat side is facing down. Slice into 1-2 inch pieces. Place on flat baking sheet.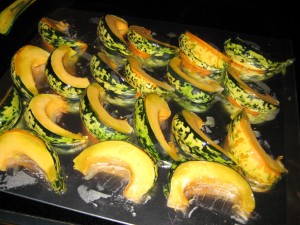 Make sure that oven is heating to 400 would ya?
Then comes the sweet buttery goodness that goes on top.
I melted about 1-2 tbsp of butter with a good few squirts of honey. Baste on squash on both sides. YUM!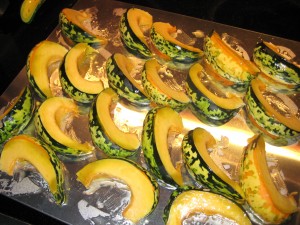 Then roast for 25-35 minutes depending on how soft you like your squash. I started with 20, then drizzles a bit more honey on top and popped them back in the over for another 5. I think 30-35 min would have been better.
But kombucha did not let us down! It was incredible!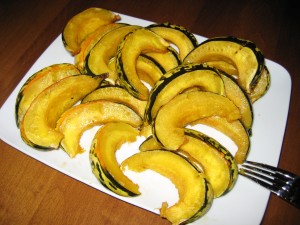 Colleen made a gorgeous quinoa dish that started with my favorite ingredient: butternut squash. I imagine she is going to do a full recap of her creation but the simple ingredients were perfect:
quinoa made with chicken broth (or broth of choice) instead of water
black beans
roasted butternut squash
walnuts or sunflower seeds to add crunch
It was warm, comforting and just delish.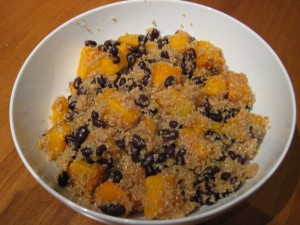 Our main dish was pork tenderloin grilled with pumpkin butter. TO DIE FOR! And I failed to take pictures of the complete table or my plate. I was that hungry, it was that good, I lost sense of all priorities.
But that table looked so nice when it was set.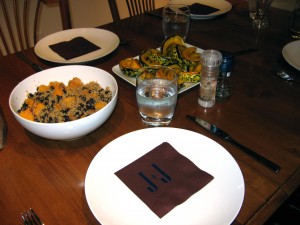 It was one of the best meals I've had in quite some time. Naturally we ended the night with Colleen's homemade pumpkin chocolate chip and cinnamon chip bars.
Me + my belly = happy gal
A most perfect fall evening!
What have been your favorite fall spices, recipes, meals, or ideas?
I hope you have a wonderful weekend! I'll be back with a new fitness challenge, some thoughts on one key to workout success and quite a bit more!
No related posts.
Related posts brought to you by Yet Another Related Posts Plugin.