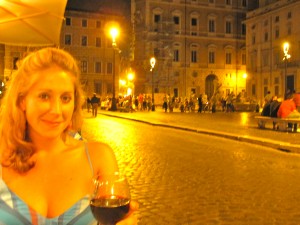 I remember thinking about our upcoming honeymoon. It was the trip of a lifetime. Over three weeks in Italy and France. OH MY GOODNESS! Three weeks? Three weeks? Feeling like I was the luckiest girl in the world isn't a big enough expression for how I felt.
A few years back the primary thought in my mind about that time frame would be simple: how the heck am I going to NOT eat my life away every second of the day and come back 30 pounds heavier. Sad but true.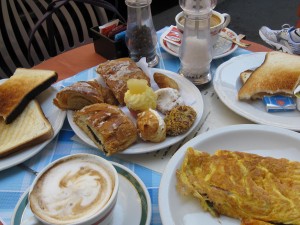 And let's be real here, I definitely thought about the food, the wine, the food, the wine and what that means for three weeks plus. But every time those sneaky thoughts entered my mind I would give myself a nice smack on the face (sometimes literally) and remind myself: three weeks in Europe. Enjoy every single second of it! Don't worry about the food, the wine, how to count, how to exercise, how to limit calories, how to blah blah blah blah blah.

My new approach to food and life came alive on our honeymoon. Food is meant to be enjoyed, meals are meant to be pleasurable and yes, you can taste EVERYTHING!
And the best part? Food in Europe is the antithesis of what I typically find at a restaurant in America.
So, let's talk Italy today! Let's talk about the most simple and yet incredible ingredients ever found and always used by the wonderful Italians. And I should learn this stuff because my husband is Italian! And now I have quite the Italian last name!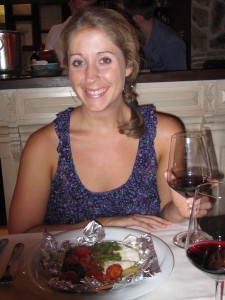 The perfect set of ingredients:
Olive Oil
Basil
Oregano
Salt + pepper
Tomatoes
I bet you didn't already know that!

But you see, what I found in Italy is that Italians don't eat mounds of pasta, or cheese, or pizza. They start every dish, nearly every meal with those simple ingredients. And then slowly build from there.
My favorite dishes: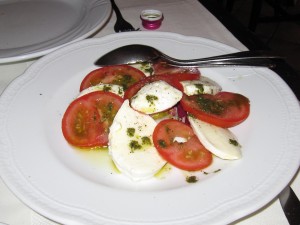 Caprese salad.
I've always loved thee yet now I love thee even more. Keep this classic as intended: slice your tomatoes nice n thick. Slice the mozzarella even thicker. Pour desired olive oil. Fresh basil on top. Then cover in salt + pepper. Devour.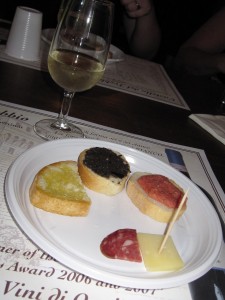 Toasted bread + olive oil + salt + pepper.
Until tasting authentic Italian olive oil I never truly appreciated the taste. With freshly ground salt and pepper life simple doesn't get ANY better than that!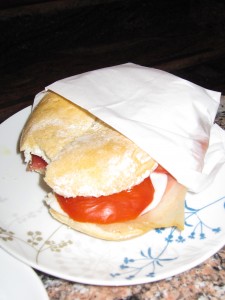 Ciabatta sandwich. I have died and gone to heaven every day when I have this. It is so perfect and simple it is ridiculous! Now don't get me wrong, I love my pesto, my sauces, my BBQ and my hummus just like the rest of them. But this sandwich is a slice of heaven and needs nothing, I repeat NOTHING else added to it. Don't mess with what works.
You will need: fresh ciabatta (it's worth it, don't get wheat), thickly sliced tomatoes, fresh and the most fabulous mozzarella cheese, olive oil and dashes of freshly ground salt + pepper. Then prepare to dream.
Lately we have been recreating our love for Italy in the kitchen. We have enjoyed whole wheat pasta with olive oil, fresh basil, salt + pepper and a sprinkle of mozzarella cheese. We have had more bread with olive oil than I can ever imagine. Tomatoes are always, always on my counter tops and now I have the hankering to make homemade pasta. We'll see how that one goes.
A few things worth buying and spending extra $$ on:
1. Olive oil. Make sure the olives are from Italy, are picked in Italy and are pressed in Italy. We learned that many companies claim that the oil is from Italy but in actuality the olives were only pressed in Italy and not grown. Trust me, you can taste the different.
2. Balsamic vinegar. Go big or go home. Pay the $25 for a small bottle. Get something authentic and rich. It makes an ordinary dish come alive.
Now, go create in that kitchen of yours. Allow the Italian in you (we all can have it!) inspire you. Eat well and drink well.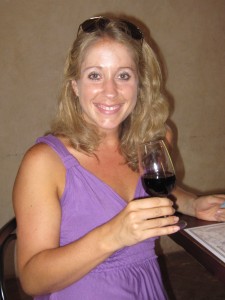 No related posts.
Related posts brought to you by Yet Another Related Posts Plugin.