Morning!
How are ya today?
It is a day of perfection here in Boston. No clouds, bright sun, lots of warmth. My favorite! Can someone order this for me for our wedding day please? Please please please!
The countdown is really coming at fast pace now friends. I am just ready to soak up my family, good friends and time with the fiance before this big moment of ours. It's time!!!!
That leads me to a bit of a farewell..
Today will be my last post until I return from Europe. We are gone through the beginning of August so I will be back by the first week. I will collecting all sorts of things to share with you about Europe and their approach to food, wellness and well being. I think we will learn a lot together!
But before that, let's talk salads.
Salads, salads, salads
The fiance grew up in a beautiful home outside of Boston. I love the area and I especially love the summer season when his dad has a garden that is full of the most perfect vegetables, herbs and fruits. There is nothing like walking out to a garden and cutting fresh lettuce, carrots and tomatoes for dinner.
Every weekend we typically come home with bags full of goodies! It is just the start of the season right now and first to be ready is the lettuce. This year there are different green and red lettuce varieties as well as spinach.

Happy woman here!
So this is what I came home with…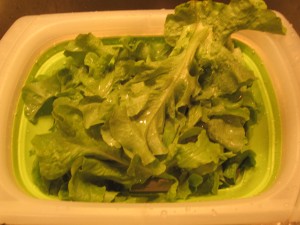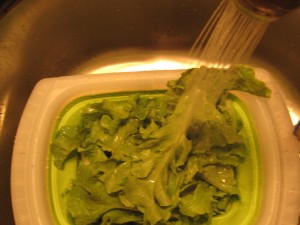 It was glorious…absolutely glorious!
So I packed the gorgeous greens up and started making salads all week long. The trick with salads is making them stick-to-your-ribs. Giving your body enough staying power to last more than an hour. I was always guilty of making pathetic salads in college that truly had nothing but greens, maybe a slice of cheese and dressing. Hungry in 60 minutes flat!
As we are in the summer months, keep in mind easy items and ingredients that you can throw in to make your salad a meal that fuels you!
Here are the top ideas that I keep in mind upon creation:
1. Color, color, color. You got it babe…add as many veggies as you can handle, afford and fit into the bowl! Don't stick to basics all the time, go wild!
Add peppers, sprouts, jicama, tomatoes, snap peas, cucumbers, squash, carrots, broccoli, asparagus, green peas, beets, FRUITS..the list is endless. Pick your top 5-8 favorite veggies and rotate them on your shopping list. If you keep your fav ingredients stocked in the fridge and already chopped, making a colorful and bountiful salad is easy!
2. Add protein. We all know and love this macronutrient. The source of fuel for our muscles and the source of fuel for our bodies and satisfaction (notice how satisfied you feel when your meal contains ALL of the major macronutrients?). Protein doesn't have to be meat nor does it have to be something that requires lots of prep.
My favs:
Veggie burgers
cottage cheese
greek yogurt
hummus
pressed tofu
nuts
hard boiled eggs
sliced cold turkey/chicken
3. A dash of complex carbohydrate to maximize energy. I love adding a bit of complex carbs to my salads- especially if I'm looking to stay full for a significant period of time. I try to keep this ingredient list simple and light:
Leftover roasted sweet or red potatoes sliced thin
homemade croutons made out of ezekiel bread
QUIONOA
black beans, chick peas, white northern beans
corn
You don't need a large serving on your salad but enough to add the flavor and texture. I usually throw in 1/4 cup of corn, beans or quinoa.
4. Dressing/topping power. Everything, everything, everything about my salad is the topping. The topping is what makes my salads thrive or fail. I hate it when they fail. I try to get most creative with my toppings because they are what holds and blends all of these fabulous flavors together.
Top favorite toppings:
homemade guacamole
peanut sauce
tahini mixed with greek yogurt
hummus mixed with tomato sauce or paste
salsa with fresh mango and pineapple mixed in
bbq sauce (has to be Texas made or homemade and I know- it's odd)
dried fruits with nuts and fresh balsamic dressing
pesto with fresh tomatoes mixed in
And that is all folks! Four simple things to remember that will give your salads new life and new staying power!
I will see YOU in a month…I will have so many wonderful things to share with you about European cuisine, recipes, lifestyle, views on health and food. I can't wait!
Till then!

No related posts.
Related posts brought to you by Yet Another Related Posts Plugin.