Hello bloggies!



How are we today? I am now well rested after a very busy travel day yesterday. It always amazes me how beat traveling can make you feel. Anyone out there agree with me? My mom and I spent nearly 8 hours flying and connecting in airports. We sat A LOT. Last night at 8pm we were done, tired, beat, ready for bed.
Last night was also full of violent, Texas thunderstorms. Gosh I miss those storms. Boston doesn't really bring the thunder and lightning that mother nature brings to Texas. It was gorgeous and scary all at the same time. It had been so long since I had experienced one of those storms.
I started my morning with THIS…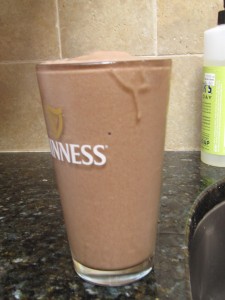 Behold the love of my life: smoothies. I don't think I have gone more than a day without a smoothie in over 5 months now. They just feel so good in my body! I can't help it! This one was made without my classic spinach (hence the chocolate color) but the Chocolate Shakeology that I add is packed full of veggies, fruits and nutrients. I don't think my digestive system has ever worked this well.
My newest favorite in smoothies is PB2. Have you checked out this lovely product by Bell Plantation? It's actually pretty spectacular, especially if you could eat peanut butter 5 times a day like me. Bell Plantation takes our beloved peanuts, presses them so that the oil is removed. What is left is a fine powder. There are chemicals, no artificial sweeteners or preservatives. The only addition to this product is a bit of sugar. The nutritional profile is terrific so take a look!
I typically add 1-2 tbsp to my chocolate or fruit smoothies, especially if I'm looking for a bit more protein. There is only 5g per serving but enough to give me what I'm looking for. This is an INCREDIBLE post workout smoothie: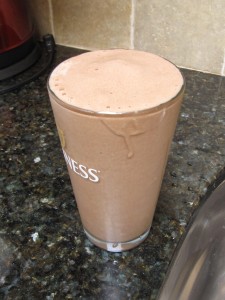 PB2 Chocolate Goodness
Sometimes you will see me throw in an assortment of fruit (banana, strawberries, mango, cherries), spinach, bee pollen, flax seed, coconut, raw oats, cinnamon…anything that strikes my fancy that morning!
I leave you today with a health and wellness news round up!
Check out what's out there in the online world…
Stop Feeling Guilty about Every Mistake– Spark People
A Diet that Protects Against Osteoporosis– Huffington Post (a very very interesting read!)
7 Strategies to Regain Control of Your Day– Body + Soul
Does Massage Help After Exercise– NY Times
10 Foods You Should Eat– Beachbody Newsletter
Young Athletes Injuries on the Rise– Boston Globe
The One Minute Full Body Workout– Health.com
Dance the Weight Off– Shape.com
Have a wonderful wonderful day!
No related posts.
Related posts brought to you by Yet Another Related Posts Plugin.