Hey there!
Good to see ya.

We are starting to warm up here in Boston. They say tomorrow and Saturday are going to be close to 90. Hmm…I think the beach just might be calling my name on Saturday!
I've developed a true obsession friends.
An obsession that I can't stop thinking about, can't stop dreaming up recipes and feel that there is no meal complete without this item.
I think the fiance is worried that I might leave him and cover myself in this grain for the rest of my life.
I give you…
QUINOA. Pronounced qeen-wah. I heart thee.
The perfect texture.
The wonderful almost nutty flavor.
The fabulous protein content.
The non-gluten grain that never upsets or bloats my belly.
Quinoa is now on our menu just about everyday and ever since I shared with you my kitchen essentials, I'm thinking about this food more and more.
And now I'm on the look out for more recipes and IDEAS! I tend to keep things simple with this guy. He doesn't need a lot of jazz to taste good.
Here are my tips on the simple preparation of this guy:
1. Grab your favorite. I have been working through this 5lb bag from CostCo since December and it is nearly gone! You can also find red quinoa at many stores. I haven't tried that blend yet but I hear they taste the same.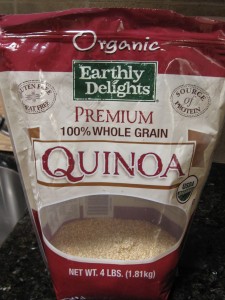 2. Add 1 part quinoa to 2 parts water. 1 cup of dry quinoa makes a pretty hefty amount. The fiance and I can make at least 2 meals out of that one batch together.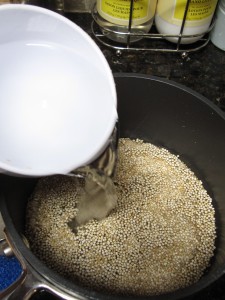 3. Many recipes suggest that you soak quinoa in water for 10-15 minutes to help remove the outer coating of saponin. I actually haven't ever soaked my quinoa and I can't honestly say I've noticed a difference.

But that's just me. You can read more about the soaking here.
4. Bring this love to a boil and then let it simmer until nearly all of the liquid has absorbed. This takes 10-20 minutes depending on the amount and your stove.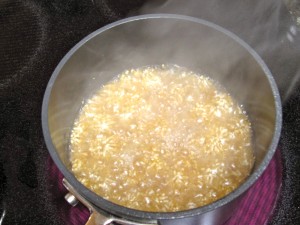 5. This is the finished product for you to enjoy!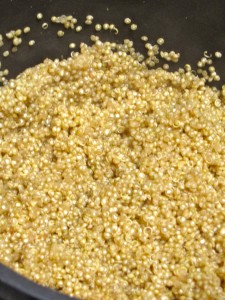 Here are a few of my favorite ways to eat quinoa…
Add chicken, beef or vegetable broth instead of water for a heartier taste. Saute a few of your favorite vegetables and then throw into the pot as the quinoa simmers. A fabulous quinoa pilaf!
Add to your favorite salad for extra protein, a great complex carbohydrate and more filling power.
Warm up with a bit of tomato sauce, mozzarella cheese and basil for an Italian theme.
Add to your burrito for different taste, texture and more protein!
Mix with black beans or bean of choice, mango or pineapple and freshly squeezed lime juice.
Mix with almond milk, cinnamon, a bit of maple syrup and drizzle with peanut butter for a delicious warm cereal.
Add to casseroles
Next up..
I'm going to be looking for new quinoa recipes to play with and will be sharing them with you over the next few weeks!
So tell me, have you tried quinoa? Share your favorite findings and recipes!
No related posts.
Related posts brought to you by Yet Another Related Posts Plugin.