Hello wonderful friends!
It's been a few days…I think I was swallowed alive by my todo list but I've managed to find my way back home and am finally relaxing a bit.

I have a feeling things are going to get pretty crazy as we inch towards our wedding day. Hmm. Must prepare for this.
I've been doing a lot of thinking. You see, I'm going to be out of touch from the online world for nearly 4 weeks. We are a very spoiled couple and have planned a 3 week honeymoon in Italy and France. My gosh do I feel like the luckiest person alive. I was contemplating blogging every few days, focusing on a particular topic and just doing short video clips so I wouldn't be sitting + typing. Because if you have ever put together a post we wall know it takes longer than we ever anticipate. And I don't really want to be spending time in front of the computer on my honeymoon. So I've decided to take an official break. Not until our trip begins but I think the fiance and I want to just disconnect from our lives, responsibilities and work. Who doesen't want that! So…rather than blog while I'm there I will still be taking videos and I will still be thinking of many glorious topics to share with you. But…I will share it all upon my return.
Who knows…I may still change my mind next week but as of today that is the plan!
Kitchen Essentials
I've been having many convos with friends + family about how we are going to eat on our honeymoon. From what I have heard and read, Europe will open our eyes to so many amazing foods + meals. I am so excited about this opportunity to try so many things and just eat in an entirely different way! My intuitive eating skills will be in full force friends! I want to enjoy every bite and every indulgent taste!
But these topics got me thinking about all of the things I eat regularly. My kitchen and pantry is pretty well stocked with the same things over and over. I'm a standard creature of habit who often steps out of the box more rarely than not. I love love love food and I love trying new things. But my life lately has been lending itself towards more simple foods and easy recipes.
Simple and easy is still fun though and fun I had at the store today…bought a lot. A lot a lot.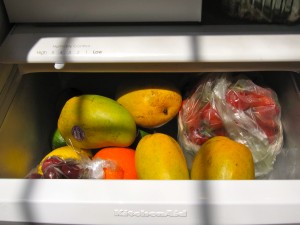 Gorgeous yellow mangos…perfection!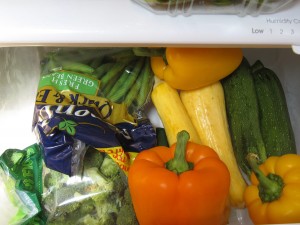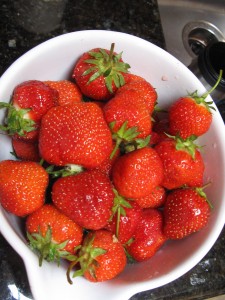 It wouldn't be a summer shopping day without strawberries…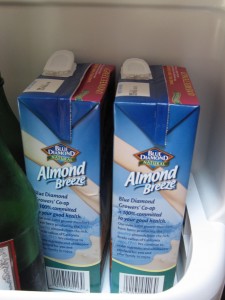 And life is pretty much only complete when I have almond milk.
So, I thought I would share with you my kitchen essentials! These are my items always on hand and always available to grab. Mostly because I love them!
Fruit
1. Strawberries- a fruit I could eat all day every day and will often buy the pathetic container in the middle of January. No matter how out of season they are I crave them. I will sometimes buy extra and just throw a batch in the freezer for smoothie options.
2. Apples- classics. I love the tangy granny smith and the sweet gala apples. October is my favorite month when apple picking is a part of every weekend. Mock apple crisp is always on the menu!
3. Bananas- I have nearly one every day. Whether it be slathered in peanut butter or in a smoothie, this starchy fruit gives my body fabulous energy.
Veggies
1. Asparagus- I have a problem with how much I love this veggie. I probably eat it about 3-4 times a week. Simply roasted with a bit of olive oil and garlic salt is all you need. Thrown on salads or as a warm side dish.
2. Spinach- green monsters. That's all I need to say. Green monsters.
3. Bell peppers- can't get enough of the crunch and slight sweetness in these guys! They are my fav addition to eggs and salads. This is my one veggie that I will buy year round.
Apple sauce– not sure when my taste buds changed but this was a food I really never liked as a child. Now I buy the Santa Cruz brand that has only apples listed on the ingredient list and I am in love! Such a great snack just before a workout or when you need a small dose of fructose!
Almond milk– I need to just buy stock in this stuff. I love it with everything except for my coffee- the translation is not good. But with my smoothies, cereal, eggs or even some sauces almond milk has my heart.
Oats– I go through a lot of this fabulous food. It is by far my favorite thing to have before an intense workout.
Quinoa– my most favorite grain! The slightly nutty flavor that gives you extra protein. A fabulous side dish and you can typically find a batch already made in our fridge.
Black beans/white northern beans– You can do anything with these guys and my favorite go to for lunches. Throw in salads, add to your sandwich or just heat up with salsa, a bit of cheese and avocado. Simple + perfect.
Tomato paste– When I lack all creativity in the recipe/meal department I always grab a can of tomato paste, add some fresh veggies and call it a day.

Honey Mustard- an all time fav to throw on just about everything. It can spice up just about anything!
Salsa- Texas at heart right here. It goes on, with and next to everything I eat.

Rotisserie Chicken– how I love thee roasted with no salt. Also one of my favorite pieces to building a simple but satisfying meal.
Dr. Prueggers Veggie Burgers– a newfound love and obsession. You can see the corn, fava beans and black beans in these guys. They taste so wonderful! Just keep in your freezer and heat up when hunger calls!
So there ya have it! My favorite kitchen essentials.
What do you always have in your kitchen? Do you stick to the same things or are you a spontaneous cook?
No related posts.
Related posts brought to you by Yet Another Related Posts Plugin.