Morning friends!
I am coming to you live from the Boston Logan airport. I'm heading back to Texas for a short trip this weekend. My mom and I have some fun things to do together and since I can be mobile with work, it makes life easier!
Come see my new article today at examiner.com on National Running Day. I will be going for a very late evening run in Texas once the sun goes down and the temp falls back into the 80's.

Today I wanted to share with you a favorite recipe of mine. With the summer arriving and the temps heating up, my body is craving lighter food and cold salads. Well, I can never give up my warm oatmeal people but otherwise, I like it light these days.
This past weekend we attended a party with friends and I wanted to introduce the group to my favorite grain: quinoa. Quinoa is getting so much attention these days and it is well deserved. It is a non-glutenous grain and is a complete protein. A food is considered a complete protein if all of the essential amino acids are present. Quinoa is a terrific whole, complex grain option but makes adding protein to your meal much easier. It is a fantastic food for vegetarians as well!
We cook quinoa about twice a week in our home (if not more!). It has a slight nutty flavor that I really enjoy on it's own but it takes on flavors very easily when you add various ingredients to the mix. If you have not tried quinoa yet it is a bit like couscous. The grain is smaller than rice and much softer. We love it over here! I do everything from cover it in a nice sauce, add it to my morning oats or toss it in salads.
So, without further delay…my current love of the week.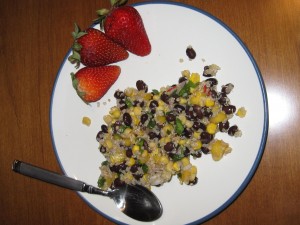 Black Bean and Corn Quinoa Salad
1 cup uncooked quinoa, cooked and chilled
1 can black beans
1 can corn
1 bell pepper, sliced
1 med mango sliced in 1/2 in cubes
2 tbsp lime juice
1/4 c finely chopped onion
1/4 c finely chopped cilantro
Great additions:
pineapple, peaches
varieties of beans
cheese
I tend to fool around ingredient amounts so there is no reason to be exact. For instance, I love lime juice so I often double the 2 tbsp. This salad tastes best after spending a night in the fridge. The lime juice, mango and cilantro flavors soak into the quinoa and beans. So delish! I would guess it makes about 7-8 cups?
Here is the full recipe amount that I made this week…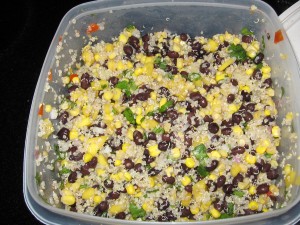 Now go enjoy!
No related posts.
Related posts brought to you by Yet Another Related Posts Plugin.