Hello wonderful friends,
I wish it hasn't been a few days since we last talked. We had a whirlwind of a weekend here in Boston. All of my girlfriends arrived on Thursday and Friday and the celebrating began! My matron of honor gave me an incredible bridal shower on Saturday. It was SO MUCH FUN!
Here are a few pics…the theme was everything sweet. It was fabulous!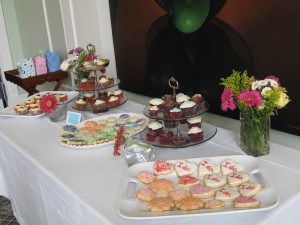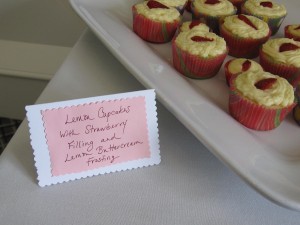 Colleen from What Is Baking In The Barbershop did a phenomenal job with all of the sweets and cupcakes. She is a very very talented lady! All of the guests were talking about her goodies and dying to take Colleen home.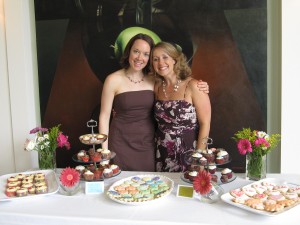 A few other candid pics from the day…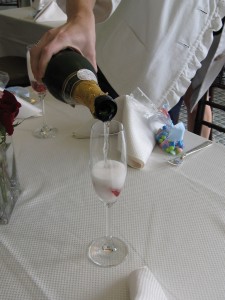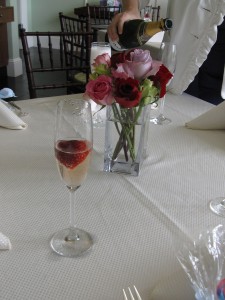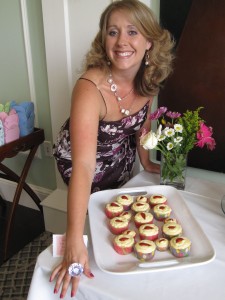 Yes, my oh so fabulous friend made me wear that lovely ring that even flashed colors all day!

All fun!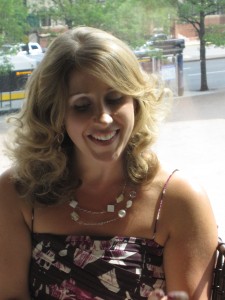 I look a wee bit embarrassed there!
Well, needless to say- it was a very memorable day. It was a lingerie shower so the party had only just begun with the sweets and champagne! I have not laughed that much in a long time!!!!

Shop 4 A Cause
The ever wonderful Angela over at Oh She Glows is hosting a silent auction today to benefit the Canadian Cancer Society. This is her second event and I can tell it is going to be incredible! Knowing Angela, she has goodies and items that all of us will want! And you never know, you might even find one, two or even three items from LiveWellFItNow!

Please visit Oh She Glows today and see if there is an item that catches your eye. The benefit of your contribution is for an amazing cause.
See you over there!
Unexpected Events
My Monday started out relatively normally. It was sunny out, I had already cleaned up our place by 10 am. My todo list was rather large but I was focused and excited about attacking the next items. I spent the majority of my afternoon catching up on work after our long weekend and decided to get the mail around 4pm.
Nothing terribly exciting in the pile from what I can tell. I'm the gal who has to go through my mail immediately though. I open it all up, trash what can be trashed and so forth. I noticed an envelope from my bank but I typically get something from them once a week so I thought nothing of it.
When I opened the envelope I noticed that it was a stop payment on an order of checks. Funny- I didn't order any checks. Then I read that the reason for the stop payment was FRAUD in capital letters. Excuse me? FRAUD? By this point it is 4:30pm. I jump on the phone and call my bank immediately.
After multiple transfers I am told that there has been suspicious activity on my account and I need to call the investigative services number. Ok, fine. I hang up. It's now 4:52pm. The first woman is out of the office but I am directed to someone else, then someone else, then someone else. By now it's just shy of 5pm and I know everybody goes home by 5.
After a 30 minute conversation with the friendliest man, I discover that someone has hacked into my online banking account and has stolen my identity. This individual has changed all of my personal information, my phone number and address and had ordered 2 sets of checks. All of this was done online and by the phone without my knowledge. The bank had attempted to reach me but had our home phone number which WE DO NOT USE! Why they had that number I don't even know.
So the next 24 hours was spent closing accounts, opening new accounts, contacting the credit bureaus, placing a fraud alert on my credit, changing every single password and user ID that I knew of, updating all of my automatic bill payments with the new information. I spent hours and hours taking care of all of this.
What took someone probably 5 minutes to access my personal information, I then spent 2 days trying to rectify the situation. I am very lucky because no money was taken, no credit card was open (not yet) and we are now safe again financially.
Where I don't consider myself lucky is the feeling this type of situation leaves you with. You feel violated, unsafe and quite frankly- stupid. Where did I make a mistake? How could someone get into my accounts when I thought our internet connection was secure? It is secure. But my phone connection isn't. I check my bank accounts through my iPhone whenever I am away or in need of doing something. Not a secure connection friends. Lesson learned.
So, after talking with many people who say that now 1 in 3 people are victims of identity theft, these are the recommendations:
1. Change your user ID and passwords FREQUENTLY and make them uniquely different.
2. Only visit financial sites that involve your personal information if you can absolutely verify that your internet connection is secure.
3. Make sure your computer is clean of viruses.
4. Monitor your accounts DAILY.
5. Don't ever open an email from your bank or any financial company asking for personal information.
So, the past two days were unexpected. But it could have been worse and I could have found out a few days too late.
Now, go change some passwords and have a wonderful day!

No related posts.
Related posts brought to you by Yet Another Related Posts Plugin.