Morning friends!
Ah, I love Mondays. I wake up feeling excited, refreshed (if I've slept a good 7-8 hours), and looking forward to my work week. Did I just say that? I said that. I truly, genuinely look forward to my work week now. I don't know if I've ever been able to say that! Wow. I love this feeling.

We all deserve to love what we do! Do I love it everyday? NOPE! But I feel inspired, motivated and passionate now. That was missing in my previous career and now that I have it- I ain't ever gonna let go!!!!
Insanity Month 1 COMPLETE!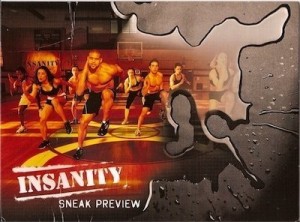 You heard it right here friends. I have completed my first month of Shaun Thompson's Insanity! I feel so accomplished, so strong and so tired all at the same time!!!
Let's do a quick recap for any of you fine friends who are wondering what this program is all about. Here is the jist of Insanity:
it is a high intensity, cardio conditioning program
there are no weights or equipment required
the focus is on cardio strength and endurance
the workouts incorporate high intensity intervals which are longer bursts of activity (2-4 minutes), followed by a very short recovery (30 seconds)
expect high impact moves (jumping, plyometrics, moving side to side, push ups, planks and more!)
expect to sweat, no I mean really sweat!
The first month of the program revolved around 4 workouts, plus a recovery workout. Each week is progressively more difficult but the best part is the time commitment = the workouts are 40 minutes OR LESS! We can all fit in 40 minutes in our day! But I can tell you that it will be the hardest 40 minutes of your day!

I ended up repeating week 3 during this month for a few reasons: I have committed to doing this program as it is written. In other words, I will do every workout as intended. But ya know, life always gets in the way! A few weeks ago I missed 2 workouts during the week. Normally, I would have simply proceeded with the program to the next week, but not this time friends! I want to truly see what Insanity can do for my body, my mind, and my endurance. So I just modified things and started fresh with week 3!
Here is what I can say about myself about month 1:
1. I'm stronger. Much much stronger and a different kind of stronger. I can run, spring, fly up stairs and move with no change in my breathing and heart rate. It takes a significant amount of activity to raise my heart rate now.
2. My core is ridiculous. I have more strength in my back and my abs than I ever have! And this is huge for me! After injuring my back over 4 years ago, my core has been the weakest point on my body. That was the source of my pain and where I had to start rebuilding strength. Now…I next to NEVER have back pain. I can walk for hours, stand for hours and still feel good. Two years ago I could barely stand for 30 minutes without back pain.
3. Everything is tighter. It's like my body is getting tighter from the inside out. I can feel muscles that simply weren't engaged much before starting Insanity. And this change is coming from within. What I expect from this is that in month 2, all of the outward physical changes will happen. I have more tone to my whole body after this first month but I think it is month 2 that these changes will start to multiply.
4. I can do pushups and lots of them! Real toe push ups friends. I can do at least 30+ without stopping and I feel like the most incredible person alive! This is a newfound strength.
5. I feel alive. It's like a switch has been turned back on again friends. I have this new energy that just sparks me all day long! When I finish my workout I am filled with emotion, a sense of accomplishment and energy that carries me forward. I know I am not describing this well but it feels AMAZING!
6. My flexibility is outstanding. One of my favorite components to the Insanity workouts is the stretching. After the warm up, there is at least 6 full minutes of stretching- very rare! And then there is at least 4 minutes of stretching at the end. Flexibility, stretching warm muscles are so important for your body. And yet we forget about it all the time! Now that I am stretching at least 10 minutes a day, I have better flexibility than I have in a while. And I can guarantee you that stretching has helped prevent injury during this program!
So…I am looking forward to my recovery week starting today! I cannot wait for month 2 but I know this body needs to rest, take a break from the pounding and stretch.
Recovery week is 6 days of 1 workout: Core Cardio and Balance. I will let you know what I think after today!
Insanity is turning out to my one of my favorite workout programs out there. And I never thought I would say that! Sometimes we are surprised by what our body enjoys and thrives on!
So, what is your favorite type of workout? What workouts have surprised you?
See you hopefully later today!

No related posts.
Related posts brought to you by Yet Another Related Posts Plugin.