Hello hello hello my friends!
How are you today? I know…it's been ages. You think I had left for good, moved on to something else, got too busy, found someone else to write to every day.

Well, no need to worry! I am here and will never leave!
I had quite a week last week…lots of movement in every area of life and I think the overwhelm is just barely starting to wear off. I have even more exciting news to share with you today: some now and then I will save some for later!! I can't let all of my surprises out of the bag yet.
First item on the agenda today..
I have decided to embark on a 60 day journey friends, a journey that involves the HARDEST, MOST INTENSE workout program I have EVER seen.
I am going to do INSANITY people! For a sneak peak, check it out!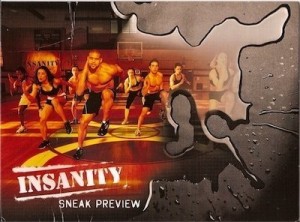 Now, what is the program exactly might you ask?
Let's talk some details here…
Insanity was created by Shaun T, one of the many fabulous trainers at Beachbody. It is a 60 day cardio-based, total body conditioning program. The program is built around high intensity interval training kicked up a few notches. In HIIT workouts, you exercise at a higher intensity for short time bouts, then recover for a longer time bout. Insanity uses something called Max Interval Training, which replaces the moderate intensity intervals with short intervals of HIGH intensity followed by SHORT rest periods. Your body will be relying on fast twitch fibers (normally used in activities such as sprints) the entire time and your heart rate will likely be working at 85% of it's maximum.
What does that equal? INTENSITY, extreme challenge and extreme power. Your body will become stronger and more powerful. Your endurance will be at a level it likely never has been before.
My disclosure: I do not believe Insanity is for everyone. This is not for beginners or for someone who does not already have a well established workout routine.
With that said, if you are interested in checking out Insanity for yourself please visit my coach page to learn more.
If you decide to begin the Insanity journey or ANY Beachbody program, I would be thrilled to coach you for free! Here is what we would do together:
establish a baseline nutrition plan that works for you and your life
create a workout schedule that is tailored to your needs
detailed meal plans
daily emails- discuss upcoming workouts, tips on fueling and recovery
my support every step of the way
This is my passion friends! I LOVE helping others lead more fit and healthy lives, so please email me if you are looking for support, have questions about anything related to health, fitness, nutrition or wellness! livewellfit09 @ gmail.com
The real Insanity Experience
I am a big believer that in order to support or believe in an idea, product, or lifestyle you have to have your own personal experiences. I could sit here and write about fitness and nutrition every day; but if I am not living what I write and living what I learn I wouldn't listen to me!
So for the next 60 days I am going to post daily about my Insanity workout and my nutrition. I want to not only challenge myself to complete this program but I want to show ALL OF YOU WONDERFUL readers how you can incorporate fitness into your life AND properly fuel your body. Regardless of what you do for exercise or what you eat, I know you can learn something here. We are always learning in this world. I will discuss Insanity workouts but I will also offer thoughts and suggestions for any type of workout regime you are looking to do.
So, sit back, relax and enjoy the INSANITY show!
Sidenote: On Saturday I completed the Insanity FIT TEST. This fit test is such an important step: it gives you a baseline. This is your starting point and a way to measure progress, change in endurance and strength. It was less than 20 minutes long but I could barely walk afterwards! So, Sunday was a rest day (I typically will always rest on Sundays) and today was the big day!
Day 1
Workout today: Plyometric Cardio Circuit
Plyometrics involves explosive movements where one or both of your feel leave the ground. It requires alot of power in your legs which translates into your muscles tiring VERY quickly! The warmup alone in this program feels like a workout so when the intervals began I was very afraid.

You complete each interval 3 times (each one lasting around 3 minutes) and then rest for 30 seconds. Today was filled with suicides, power squats, mountain climbers, a bazillion planks and pushups followed by 2 minutes of static punches and jumps. Yowzers! It was freaking fabulous! And yes, you will be drenched in sweat after every workout. This workout lasts 41 minutes with warm up and stretch included.
But, all in all it was a great day. I did stop to rest a few times during each interval. Shaun T emphasizes form over anything so when your form begins to slack you REST! Take a 5 sec break and then jump back in.
Tomorrow is another cardio circuit. I am now refueling my body with an ENORMOUS green monster!
Today's recipe:
1 scoop Chocolate Shakeology
1 cup almond milk
1/2 cup greek yogurt
1/2 banana
1/2 cup cherries
4 cups spinach
Incredible! My body feels well nourished now that I have had this.
Nutrition nutrition nutrition
All of the fitness programs by Beachbody have nutrition plans that focus on clean, healthy eating. No matter what program you invest in you will have the tools to eat well and change your body.
With Insanity, the approach to nutrition is different. The basics for this program are simple but NECESSARY:
Make sure you are eating ENOUGH! No calorie cut backs here friends. Fuel your body with cals or else you will NOT see progress and your body will fight you to the end. You will likely end up injured, over tired and just plain miserable!
Recovery meals are essential. After every workout you MUST get in a meal that has protein + complex carbs
Eat 5-6 times a day. You hear this a lot a lot a lot. Why? Because it helps keep your body sustained and not hungry. Unless it's Christmas morning and I am going to feast at 2pm I am always eating 5x a day! I feel best when I do this.
Stick with the basics. Pure protein (unprocessed form), fruits + veggies, delish complex carbs (oats, sweet potatoes, grains) and throw in some dairy + fat. That is the basics. If you stay in those areas, your body will thank you!
So, there ya have it! Day 1 is complete.
I'll be back tomorrow for another check in and more tips on healthy eating! I will be sharing some of my favorite easy recipes.
Health Tip of the day: Hydrate! Majority of us do walk around dehydrated. Keep a large water bottle with you and focus on drinking 2-3 bottles full throughout the day. Water is BRAIN FOOD! Your body is nearly 80% water so feed it well.
I leave you with some gorgeous Boston spring pics from the weekend.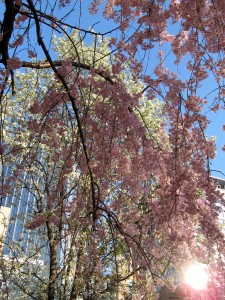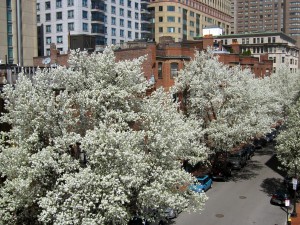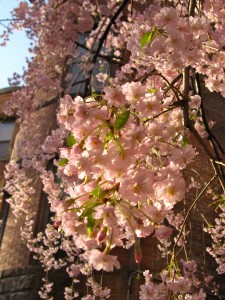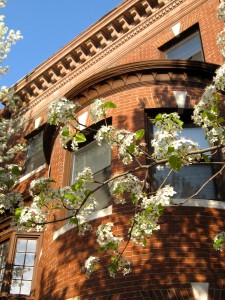 No related posts.
Related posts brought to you by Yet Another Related Posts Plugin.